Eleonora Vulpiani accomplishes her guitar studies at the "S. Cecilia" Conservatory of Music in Rome, under the guidance of Maestro Giuliano Balestra.
She follows classical/artistic studies first at a Classical High School in Rome, then at the Faculty of Literature, specializing in "History and Conservation of Artistic Heritage – Science of Cultural Heritage".
Since 2002 she engaged in a valuable process of high musicological profile aimed at rediscovering a suggestive nineteenth-century instrument fallen into disuse: the lyre-guitar.
She owns two philological copies of the instrument commissioned to the Roman luthier Gerardo Parrinello.
The first made in 2003, a copy of an original Lyre-guitar from 1809 by the Neapolitan luthier Gennaro Fabricatore. The second in 2020, a copy of an 1809 original by the French luthier Ignace Pleyel.
The research work on the lyre-guitar is the result of careful and constant study of a vast musicological material that has not been published since the 19th century.
Many are the unpublished scores for lyre-guitar that the artist proposes in concert, both in the solo repertoire and in various chamber ensembles: for two lyres, in duo or trio with singer, violin or flute and for lyre-guitar and orchestra. Pieces of intense expressiveness, great musicality and remarkable instrumental virtuosity written by important authors of the nineteenth-century guitar scene such as Ferdinando Carulli, Mauro Giuliani, Fernando Sor, Salvador Castro de Gistau, Francesco Molino, Matteo Carcassi, Pierre Jean Porro, Antoine Marcel Lemoine, Etienne Jean Battista Pastou and many others.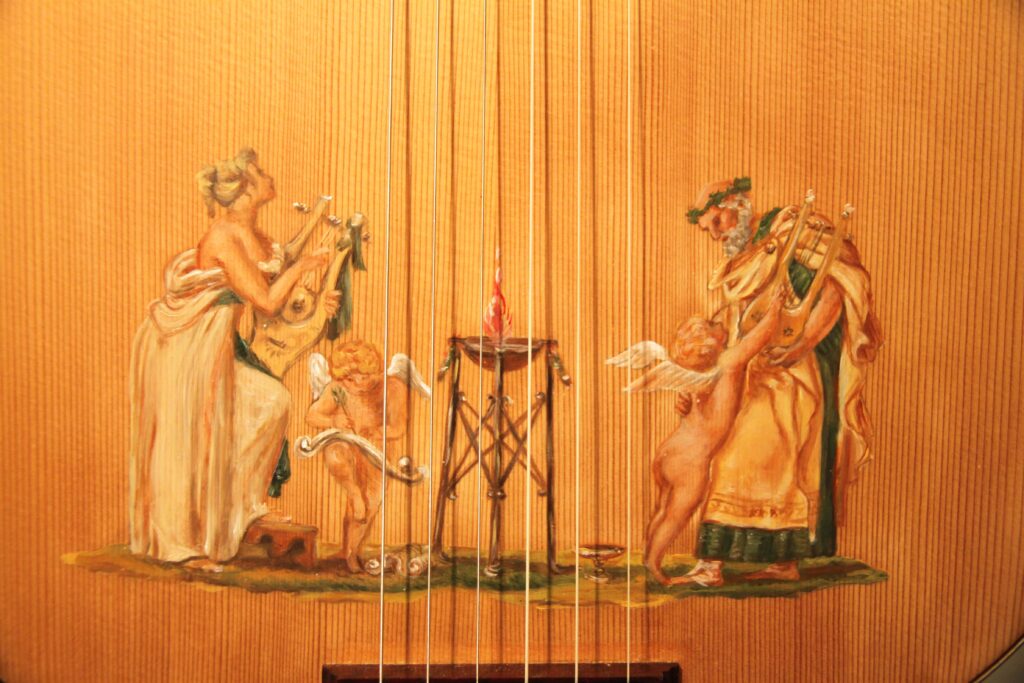 Eleonora Vulpiani performs concert activity as a soloist and in various chamber ensembles receiving acclaim from the public and recognition from the press.
In 2007 she published the book "Lyre-guitar. Étoile charmante, between the 18th and 19th century".
The book can be found in:
Library/Mediatheque of the National Academy of Santa Cecilia, Auditorium Parco della Musica, Rome.
Library of the Pontifical Institute, Rome.
(Or, for information on the text, fill out the form on the contacts page)
Moreover, the Museum of Music in Nice (Musée de la Musique de Nice – Palais Lascaris, 15 rue Droite, Vieux-Nice) plays unpublished pieces from the repertory in some of its exhibition halls.
She founded, in 2009, the International Guitar Competition "Ferdinando Carulli".
www.totemtanz.it/carulli
In 2011 she was included in the "Enciclopedia de la Guitarra" (supplement 2011), edited by Francisco Herrera.
In 2012 she founded the Totemtanz Cultural Association (Music School and Cultural Center) in Rome.
www.totemtanz.it
In 2017 she was a guest of the "Babilonia" broadcast by RAI (Radio Svizzera Italiana-ReteDue) in the INTERVIEW "Magnificent sound promiscuities", edited by Sergio Albertoni and Valerio Corzani.
The press writes about her:
«Lyre-guitar, voice and violin concert. […] We attended a concert that re-proposes not only an instrument fallen into disuse and no longer heard since the 1800s, but also little-known music of great expressive effectiveness. The Trio performs proposing […] pleasant pieces of great musical and poetic validity such as the Sonata III op. 21 by Ferdinando Carulli for lyre-guitar soloist, musically well-structured and characterized by remarkable instrumental virtuosity; the Variations, also by Ferdinando Carulli, on three famous Arias taken from Mozart's "Le Nozze di Figaro" ("Voi che sapete…", "Non so più cosa son…", "Non più andrai…") and some currently little-known pieces such as Pierre Jean Porro's Romanze and Arias, but which express a sublime and evocative poetry. […]».
(Diplomatic Magazine – Rome, July 2004)
«The lyre-guitar reappears from the 19th century in Paris. […] Many painters of Neoclassicism […] loved to portray beautiful women dressed in the mythological Greek manner who played this instrument. In noble families it became almost a status symbol […] Then, slowly, oblivion came. The rediscovery is now due to Eleonora Vulpiani […] she plays an instrument that she had rebuilt with an exceptional technique […] ».
(Il Messaggero – Rome, 18 October 2004)
«Eleonora's Lyra: a spell from another era. The last muse plays the lyre. Eleonora Vulpiani, the only concert artist in the world with the instrument of the gods […]. The instrument went out of fashion around the first half of the nineteenth century to give way again to the guitar. The lyre disappeared from the concert scene […]. Until the rediscovery of the young Vulpiani […]. Shows of great charm and elegance […]».
(Il Tempo – Rome, 8 February 2005)
«Eleonora Vulpiani exceptional soloist. The welcoming hall of the Bank of Ireland Art Center was enlivened by the sweet music of the lyre-guitar by Eleonora Vulpiani, the only concert performer in the world to know the secrets of this ancient instrument […]. Vulpiani played […] some arias by illustrious 19th century composers, such as Ferdinando Carulli, of which she proposed, inter alia, the Sonata Sentimentale entitled "The Loves of Adonis and Venus" […]. With this concert, the Italian Cultural Institute has reopened the doors of classical music and this instrument to Ireland and Dublin […]».
(Italia Stampa – Dublin, March 2005)
«Eleonora Vulpiani fascinates the public with the lyre-guitar. […] Endowed with great talent and excellent technical and interpretative qualities, the musician, skillfully exploiting the idiomatic resources of the instrument, both on a dynamic level and in the virtuosic passages, always rendered with a clear and punctual sound, performed a series of persuasive pieces of Ferdinando Carulli marked by an elegant classical language of immediate appeal, namely Sonata in three movements, Le follie di Spagna, Theme and Variations and a graceful Sonatina. […] a Siciliana by Francesco Molino […], enthralling in its cantabile and dreamy progression in compound time. Vulpiani then offered a further and very pleasant homage to the art of variation by successfully attempting the aria Di Tant Palpiti from Gioachino Rossini's Tancredi, revisited by Matteo Carcassi. At the end there was warm consensus for an intense reading of Irish national arias collected by Mauro Giuliani, including the famous Garyowen […]».
(by Renato della Torre – Il Messaggero Veneto – Udine, June 2005)
«Eleonora Vulpiani. What a delightful surprise the rediscovery of the lyre, instrument and symbolic ornament of the statues of antiquity […]. With Eleonora Vulpiani, this romantic instrument of 'empire' style with ancient origins finds a new way and an attractive topicality. […] on the occasion of a concert at the premises of the Museum "Stiftelsen Musikkulturens Främjande" Eleonora Vulpiani interpreted sonatas and other pieces from the 19th century with a classical clarity that makes listening seductive. Enhanced by Eleonora Vulpiani, the lyre-guitar finds, to our great pleasure, its place among the 550 prodigious ancient instruments of the "Stiftelsen Musikkulturens Främjande" Museum[…]. The encounter with her fine, almost ethereal music will be remembered by the audience who are already waiting for her next concert in Stockholm».
(by Alexander Scarlat – Ditt & datt, n. 30 – Stockholm, February 2006)
«[…] Starting from the rediscovery of the original repertoire for lyre-guitar, Eleonora Vulpiani has also extended her research to the historical and organological aspects, bringing together the results of her work in an undoubtedly precious volume, also accompanied by a rich photographic documentation of historical instruments […] and the paintings in which the lyre-guitar is portrayed, as well as numerous illustrations taken from title pages and musical pages taken from the editions of the time. […]».
(by Danilo Prefumo – Il Fronimo, XXXVIII / 150)
«[…] Rediscovering an instrument from a forgotten tradition brings with it many intriguing surprises, which is what Eleonora Vulpiani presents us in her-self produced book Lyre-Guitar: Étoile charmante between the 18th and 19th centuries. It is a small window into the world of the lyre-guitar. […]».
(by John Doan – American Lutherie, number 99 / fall 2009)